Register
Andover Apaches Summer Tag Rugby 2023 Rugby (Touch) · Co-Ed
MonTueWedThuFriSatSun 6:00pm to 8:00pm
Individual Fees

Regular

$70.00

+ Transaction Fee
Welcome to the Andover Apaches Rugby Program!
Andover Apaches Youth Rugby was originally established in 1998 and is for Boys AND Girls 5 to 16** years of age. (Must have been 15 at the start of the school year) with an aim to grow the sport of Rugby while maintaining the traditions of rugby, including high standards of sportsmanship, ethical behavior, safety, and fair play and to uphold the cherished values that rugby has built itself on since its beginning.
Our Club teaches the kids to play a non-contact (NO TACKLE), touch version of sevens rugby, allowing them to learn the basics of rugby in a co-ed team format. Our goal is to encourage the kids to learn about the sport, to work as a team, treat everyone with respect, and most of all, enjoy the experience!!
Please feel free to ask any questions at any time. . .here, our favorite subject is Rugby! Thank you for your support and cheers to another great season!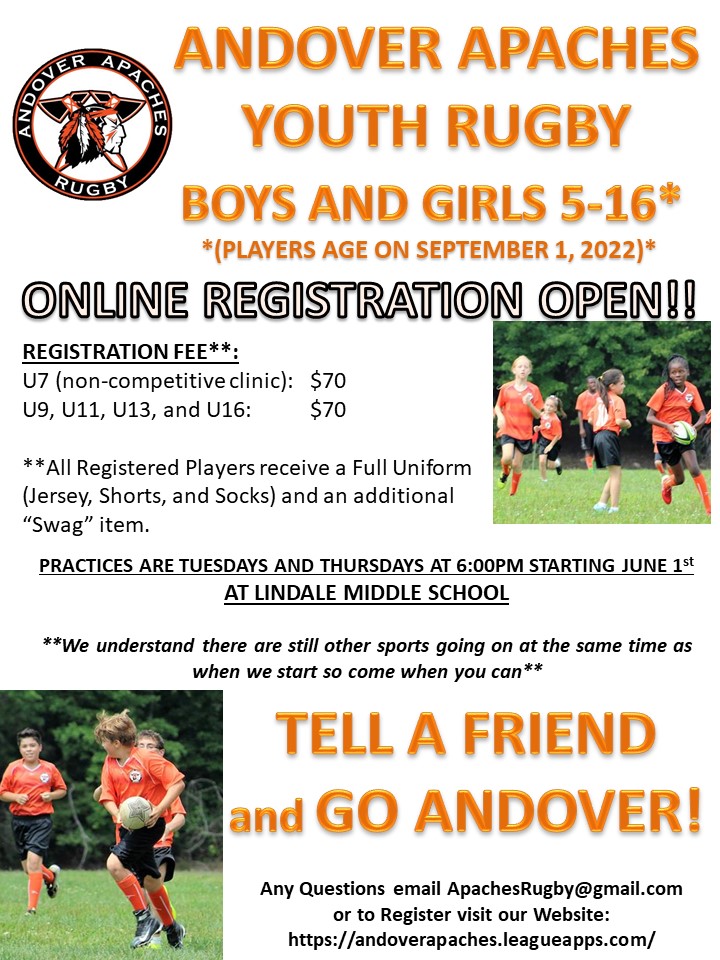 League Notes:
Now accepting registrations!